Ben Hinshaw works for the Institute for Social Sciences at the University of California, Davis, where he was also recently a lecturer in creative writing. He writes copy and content as a freelancer, too, mostly for New Relic.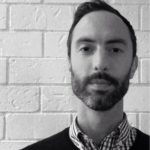 Ben's short stories have appeared in The Carolina Quarterly, The White Review, Lighthouse, The Bridport Prize Anthology 2017 and elsewhere. His writing has been supported by scholarships from the Bread Loaf Writers' Conference and the Community of Writers at Squaw Valley. He holds MAs in creative writing (UC Davis) and cultural geography (University of Nottingham).
Born and raised on the island of Guernsey, Ben later spent several years in London. He currently lives in Davis, California.