Ben Hinshaw works for the Institute for Social Sciences at the University of California, Davis, where he was also a lecturer in creative writing in 2016-17. He writes marketing materials for New Relic, too.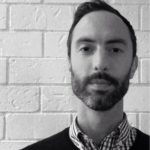 Ben holds MAs in creative writing (UC Davis) and cultural geography (University of Nottingham). His short stories have appeared or are forthcoming in The Carolina Quarterly, The White Review, Lighthouse, and DigBoston, and have three times been shortlisted for the Bridport Prize. In 2017, he was awarded a Work-Study Scholarship at the Bread Loaf Writers' Conference, and a Carlisle Family Scholarship at the Community of Writers workshop at Squaw Valley.
Born and raised on the island of Guernsey, Ben later spent several years in London. He currently lives in Davis, California.